What Startups & SMEs need to know to be GDPR compliant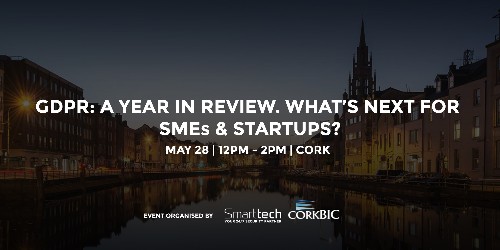 CorkBIC & Smarttech are hosting an event looking back 1 year after GDPR was introduced and what impact it has for Startups & SMEs
Tuesday May 28th
12noon - 2pm
UCC Business Education Centre
1 Lapp's Quay, Cork
A lot has happened in a year. European data protection agencies have issued fines totalling €56 Million for GDPR breaches since it was enforced, from more than 200,000 reported cases. With the 25th May 2019 marking one year since GDPR became law across Europe, we would like to invite you to our complimentary lunch & learn in Cork where Data Protection experts will address key compliance issues faced by SMEs and Startups today.
Topics include:
Year of GDPR: What's the current state of play?
What Start-ups / SMEs need to know in order to ensure full compliance to GDPR
A story we can learn from: Special Guest Speaker talking about their journey so far - to be announced soon
Whether you are a start-up looking to get investment or an SME facing strict customer / regulatory compliance, our experts will provide you with practical insights and tips on how to ensure compliance.
At the end of the event, we will hold a Q&A – a chance for you ask those burning GDPR questions!
This event is jointly hosted by Smarttech247 and CorkBIC