3 Weeks to Apply for 3rd Cohort of Accelerator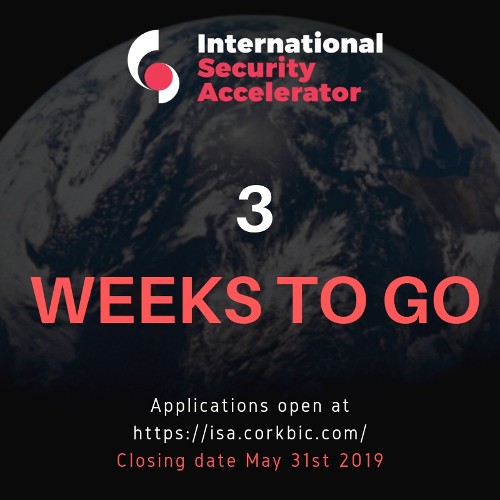 Are you a Startup in the wider security industry? Are you working in Cybersecurity, Internet of Things (IOT), Health & Bioinformatics, Artificial Intelligence, Defence, Critical Infrastructure, Financial Services, Transport and Logistics? If you are you need to be part of the 3rd Cohort of the International Security Accelerator.
Accelerator Participant Companies from Cohorts 1 & 2:
Now valued at €31million
Valuation increase of 4x from pre programme to post programme valuation
€3.16million of seed capital invested in 7 companies to date
The International Security Accelerator, managed by CorkBIC, based in Cork, Ireland, is an intensive 13 week program of mentoring and in-depth workshops with a focus on the team, technology, business model, market opportunity and investor readiness.
As part of the package, participants get:
Access to Corporate Partners and Customers
Investment
One-to-Ones with the Accelerator Tech Expert Group (AI, IoT, Security, IP and managing global tech teams)
One-to-One's in Sales/Go to Market (Market Entry, Partnering, Pricing)
One-to-One's on Investor Readiness (Focus, Valuation, Terms, Closing, Board etc)
Access to International Investment Network for new funding
Co-working space for 9 months
Applications open until May 31st - Click on the Green APPLY button at the top of this page.
Accelerator starts in September 2019